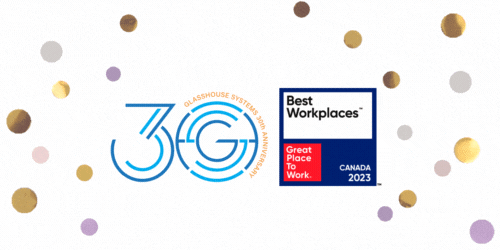 GlassHouse Systems, the leading provider of complex enterprise IT and security solutions, is proud to be Certified™ by Great Place to Work®. The prestigious award is based entirely on current employees' experience working at GlassHouse Systems.
This year, 90% of employees said GlassHouse Systems is a great place to work, compared to just 60% at the typical Canadian organization.
Great Place to Work® is the global authority on workplace culture, employee experience, and leadership behaviours proven to deliver market-leading revenue, employee retention and increased innovation.
"We are honoured to be named a Great Place to Work-Certified company. We have committed to fostering an innovative, caring, and inclusive environment where team members can bring their best selves to work and build fulfilling careers," said Alex Talmor, President of GlassHouse Systems Canada. "I attribute our success directly to employee success and satisfaction, and I couldn't be more excited to continue to invest in our company-unique culture. Our goal for GlassHouse is not just to be a great place to work but to be the best place to work for our employees."
"This accreditation is an affirmation of the culture we've nurtured for decades. A professional environment that focuses on the individual enabling them to develop while helping others," said Robert Moniz, President of GlassHouse Systems US. "We can only impress clients if we have sustainable support and creative thinking. To achieve this, we've hired, trained, and retained amazing resources. GHS has world-class talent."
GlassHouse Systems has experienced unprecedented growth over the last four years. As a result, the company has embraced a transformative opportunity to cultivate an unparalleled employee experience.
"Our people not only deliver excellent results to our clients but create a culture where people are valued, respected, and have the opportunity to grow," said Einat Levi-Israeli, GlassHouse System's Human Resources Director. "This certification belongs to each member of the GHS team and reflects our core values and belief that together, we can do so much."
OH, BTW, WE'RE HIRING! 🙂
About GlassHouse Systems
For more than 30 years, GlassHouse Systems (GHS) has been delivering transformative digital and security technologies that power the most innovative companies. Our teams address the entire breadth of business needs, from strategy and design to managing secure operations on-premises and in the cloud.
To do this, we draw on our deep in-house expertise and strategic partnerships and deliver creative technical deployments that help chart new strategies for our clients' growing digital resiliency needs.
About Great Place to Work Certification™
Great Place to Work® Certification™ is the most definitive "employer-of-choice" recognition that companies aspire to achieve. It is the only recognition based entirely on what employees report about their workplace experience – specifically, how consistently they experience a high-trust workplace. Great Place to Work Certification is recognized worldwide by employees and employers alike and is the global benchmark for identifying and recognizing outstanding employee experience.