Webinar: GHS ZERO TRUST SUMMIT - VIRTUAL
Agenda:
Introductions

Presentations from IBM, Palo Alto Networks, Proofpoint and CrowdStrike

Q&A, Next Steps, Conclusion
Date:
Thursday, November 10, 2022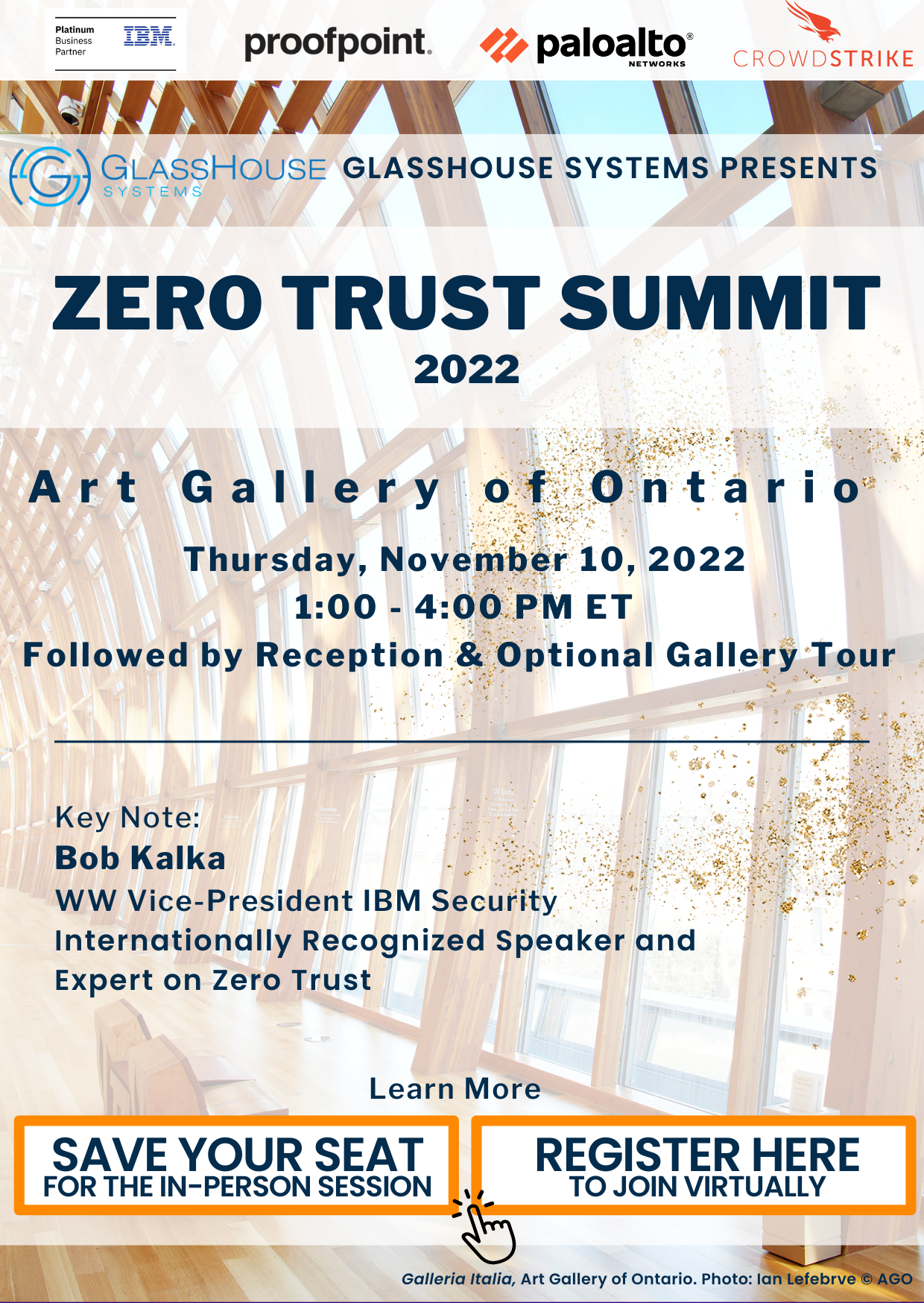 Zero Trust represents today's most demanding evolution of cybersecurity. The GHS Zero Trust Summit delivers knowledge leadership from four of the industry's technology and market leaders: IBM, Palo Alto Networks, CrowdStrike and Proofpoint.

Key Note: Bob Kalka, WW VP the IBM Security Business Unit is our keynote speaker who conveys how Zero Trust has been thrust to the forefront by organizations moving to hybrid cloud. Bob's depth is so apparent by the clarity with which he describes Zero Trust. That depth is reinforced by the experience of working with hundreds of customers around the world deploy a Zero Trust model, and his role in setting strategy for the security business at IBM. Zero Trust is a strategic approach to cybersecurity, securing an organization by eliminating implicit trust and continuously validating every stage of a digital interaction. Bob explains the approach and the challenges of adopting that Zero Trust strategy.

Palo Alto Networks: Victor Tavares, Canadian Director of Systems Engineering
In this session Victor will cover Palo Alto Networks' Zero Trust approach from four perspectives. Foremost, Zero Trust must be comprehensive and embrace the full ecosystem of controls–network, endpoint, cloud, application, IoT, identity and more. Zero Trust must also be Actionable, Intelligible and Scalable. Victor shares insights gained from direct experiences with some of Canada's largest and most complex customers.


Proofpoint and CrowdStrike: George Mikhailov, Proofpoint Architect and Frank Mazza, Sales Engineer, CrowdStrike. This session with George and Frank will cover Zero Trust from the combined lens of data & email protection and endpoint protection. It couldn't be more relevant with an estimated 90%+ of all malicious attacks are perpetrated through email. Proofpoint, the best-of-bred solution for email protection has strategically partnered with CrowdStrike, the leading solution for endpoint protection and threat intelligence. Proofpoint TAP and the CrowdStrike Falcon platform share threat intelligence, delivering a unique level of protection against advanced threats.