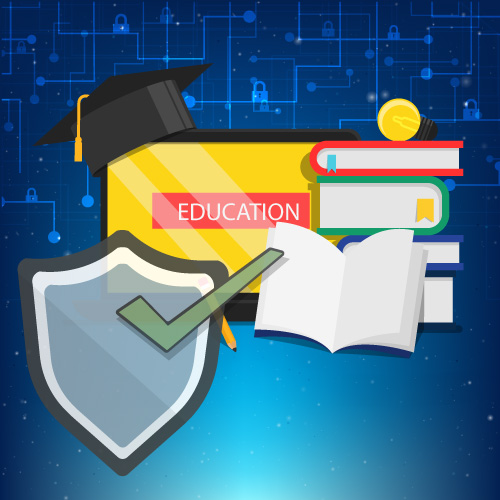 The higher education industry is often the target of cyber attacks due to the high volumes of sensitive data found in their IT systems. An open access culture also allows for areas of vulnerability, therefore, it is imperative for these institutions to effectively strengthen and manage their cybersecurity. After all, the fallout from a breach can be costly in more ways than one. While cyber attacks can damage a school's reputation, they also work to collect and exploit the personal information of its faculty, students, and donors.
With the threat of cyber attacks steadily increasing each year, the higher education industry is forced to confront and challenge the open nature cultivated by colleges and university. In doing so, these institutions can develop and enforce more efficient ways to protect valuable data.
What are some of the threats that the higher education industry faces? Also, what are some examples of the solutions colleges and universities can practice to combat future attacks? Continue reading below to unlock our answers to these questions and more.
Challenges Facing Cybersecurity in Higher Education
User Education: Between learning, researching, and teaching, both students and faculty deal with heavy workloads during the week. Unfortunately, busy schedules don't always allow for cybersecurity awareness and training to take priority.
Limited Resources: Higher education institutions may not be equipped with the right tools to prevent cyber attacks. Thus, limited resources make it challenging for colleges and universities to effectively ward off imminent threats and keep their data safe.
Unsecure Personal Devices: Every day, students and faculty carry devices with them to campus. As a result, an abundance of information and intellectual property can be found within college and university networks. This is extremely appealing to hackers and it is extremely difficult to ensure that all of these personal devices are safe and secure.
Solutions to Prevent Cyber Attacks
Assess Your Current IT Landscape: Become familiar with your network vulnerabilities so you can be better prepared to prevent them and mitigate risks of a cyber attack. A formal audit can help you determine whether or not your institution is following existing cybersecurity policies. In addition, one of the best practices is to ensure that passwords are secure and to keep your software clean.
Develop Cybersecurity Awareness Campaigns: Cybersecurity Awareness Month kicks off in October. Colleges and universities can develop Cybersecurity Awareness Campaigns that have a focus on different topics for each quarter, such as phishing or password security. These campaigns can be used as an effective tool to educate students and faculty on best practices.
Back-up Your Data: Get into the habit of backing up your data. In the event that your system has been compromised by a ransomware attack, your data may not be restored even if a ransom has been paid. Therefore, the best way to protect and restore your data is to have multiple back-ups or consider storing this information on a secure cloud-based solution.
Find IT Security Products and Services at GlassHouse Systems
At GlassHouse Systems, we go above and beyond to help our clients secure their infrastructure and protect vital data. As cyber attacks become increasingly common and sophisticated, we have adapted our solutions to ensure that you and your institution are always one step ahead. Backed by 25 years of industry-leading experience, our team of highly trained experts can provide you with some of the best IT products and services available on the market today.
Contact us or leave a comment below to learn more about our cybersecurity solutions for the higher education industry. Learn more about how you can protect your data with our award-winning IT security solutions.
For Canada and worldwide, contact our main Canadian offices:
+1 (416) 229-2950

+1 (416) 229-9096
By email: canada@ghsystems.com
For all US-based enquiries, please contact our main US offices at:
+1 (630) 724-8500

+1 (630) 724-8509
By email: us@ghsystems.com