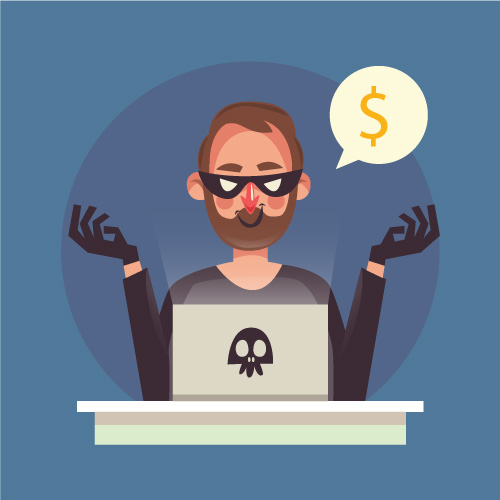 For better or for worse, the internet is an essential tool of modern life. As the embodiment of human knowledge, the internet has changed the landscape of how we learn, communicate, and conduct business. However, these open networks have also made it easier for criminals to target innocent individuals for monetary gain.
Today, cyber criminals are resorting to more devious and sophisticated hacking methods in an attempt to outsmart the existing protections you have in place. While you may already be familiar with threats like Ransomware, an even more subtle danger has recently entered the tech scene. Cryptojacking is an online threat that hides on all types of electronic devices including your computer or mobile phone in order to mine for cryptocurrency. The virus can infect your device by fooling victims into clicking on unfamiliar links in emails or by infecting websites and online ads with JavaScript Code that automatically runs when you load the page.
What makes malicious cryptomining so dangerous is that programmers have designed it to stay entirely hidden from the user. Read below if you want to learn more about how to protect your electronic devices and prevent yourself from falling victim to Cryptojacking.
Three Ways to Protect Against Cryptojacking
Security Awareness Training: Since phishing-type attacks serve as the main entry point for cryptomining, employee training that focuses on these attempts will help reduce the volume of local infections. This requires ongoing training for seasoned staff, as well as ensuring new employees are adequately prepared.
Install an Ad-blocking Extension: When it comes to Cryptojacking, the second most common method of delivering malware is through web ads. Therefore, installing an ad-blocker on your web browser can help prevent your electronic device from getting infected. If you use Google Chrome, NoCoin and minorBlock extensions can help detect and subsequently block malicious scripts.
Use Anti-Virus Software: Installing anti-virus software, in conjunction with monitoring network traffic and configurations, will help you detect suspicious activity at the endpoint. In addition, it is extremely important to keep your patches and operating system up-to-date.
Protect Your Data with Security Solutions from GlassHouse Systems
As a fairly new phenomenon, there is a lot of room for Cryptojacking to grow and evolve. Furthermore, the decreased risk of being caught, combined with the promise of a greater profit makes this hacking method especially popular amongst cyber criminals. At GlassHouse Systems, we provide you with an aggressive approach to combat this rising trend. Our technical experts can provide you with the latest IBM and Cisco Security products and services to secure your IT infrastructure and protect the data that matters to you most.
Contact us or leave a comment below to learn more about Cryptojacking and how it could affect your business. Find award-winning IT solutions at GlassHouse Systems today.
For Canada and worldwide, contact our main Canadian offices:
+1 (416) 229-2950

+1 (416) 229-9096
By email: canada@ghsystems.com
For all US-based enquiries, please contact our main US offices at:
+1 (630) 724-8500

+1 (630) 724-8509
By email: us@ghsystems.com